---
This year at Forbes Elementary we have implemented a new behavioral plan called Positive Behavior Interventions and Supports or PBIS.
What is PBIS?
A team based process including a broad range of systemic & individualized strategies for achieving important social and learning outcomes.
PBIS is a PROACTIVE approach to teach, monitor, and support appropriate school behavior for ALL students.
A focus on PREVENTING problem behavior of all students at the school-wide, classroom, non-classroom, and individual levels.
What does PBIS look like?
The school will focus on four behavioral expectations that are positively stated and easy to remember. In other words, rather than telling students what not to do, the school will focus on the preferred behaviors.  In our school, the Patriot Pathway expectations are as follows:
Self Mastery-the ability to control one's own desires or impulses
Compassion-sympathetic consciousness of others' distress together with a desire to alleviate it
Respect-a feeling of deep admiration for someone or something elicited by their abilities, qualities, or achievements
Resilience-an ability to recover from or adjust easily to misfortune or change
We are focusing on teaching and reinforcing good behavior by awarding and recognizing the students for making good choices through our Positive Patriot system.  When a student is "caught" doing something great they will receive a Positive Patriot.  Once the student receives a Positive Patriot they can put their slip in the Positive Patriot box in the lunchroom to enter a drawing for a prize!  Drawings are done weekly.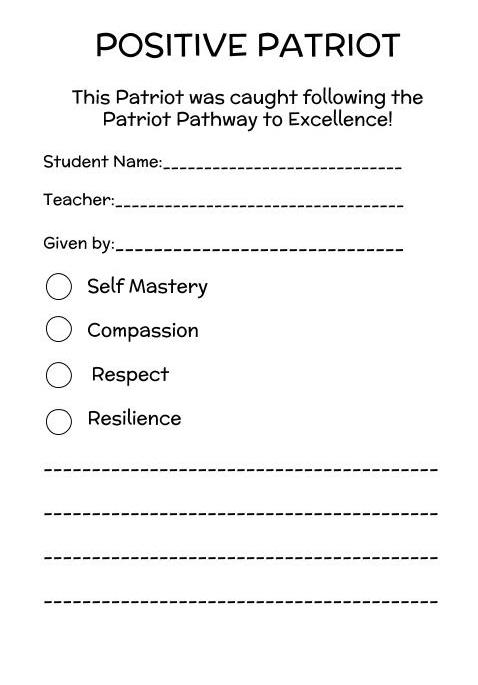 If a student or class is struggling to follow the school-wide rules, what happens?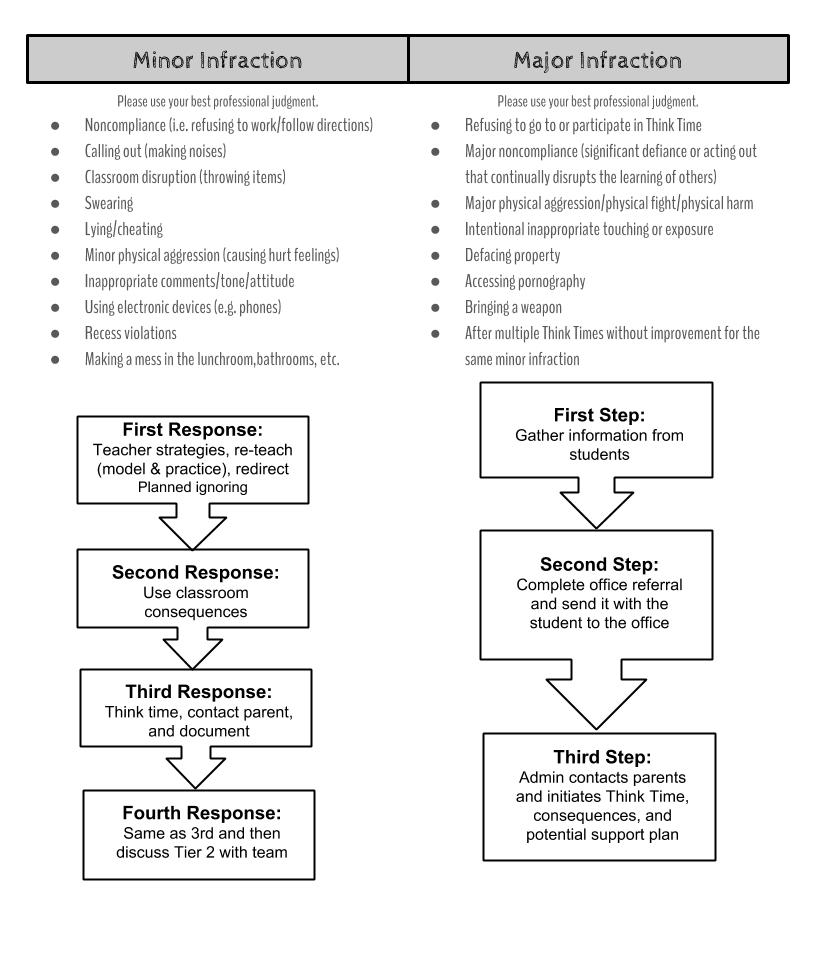 What is THINK TIME?
Sometimes it is necessary for the student to have a Think Time consequence.  If a student is referred for a Think Time, they will be asked to proceed to the pre-designated Think Time area and fill out a Think Time Sheet-Student Reflection.  Once the sheet is filled out, the student will then discuss the results of their Think Time Sheet with their teacher, a parent will be notified, and the teacher will document the communication.  If the student has a Major Infraction, they will be referred to the office, the Principal will contact the parents, initiate a Think Time, and discuss the consequences of the behavior.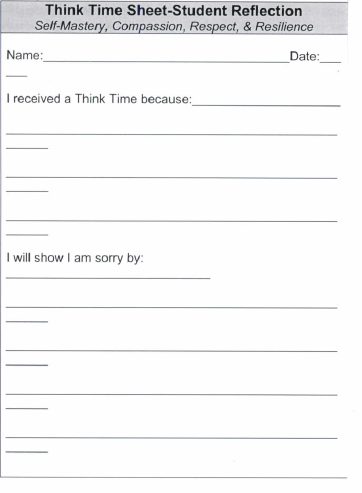 Why PBIS?
We believe optimal student achievement (academic and behavior) can be attained by utilizing a proactive systems approach for creating and maintaining a safe and effective learning environment.
**For additional information on PBIS you are welcome to refer to the following website:  https://www.pbis.org/